Global Climate Change Planetary Emergency
​​​​​​​​​​​​​

The Health and Human Rights Approach to Greenhouse Gas Pollution
CLIMATE EMERGENCY INSTITUTE
Climate change is set to inflict "severe, widespread, and irreversible impacts"
​on people and the natural world unless carbon emissions ​are cut
​sharply and rapidly.
IPCC at Lima, pre-COP20 (2014)​​
Site maintained by Peter Carter
15 May 2018 UN Sec. General says climate change is an

'existential threat' to most life on the planet, ​including and especially humankind,

UN chief warns global summit, ​and the age of fossil fuels
must be ended.
VIDEO of the historic statement by UN Secretary-General António Guterres

Unprecedented Crime: (my co-authored) Book
​
IPCC Madrid UN COP25
opening
IPCC statement Dec 2019
"O
ur assessments show that...
greenhouse gas emissions must
start
​
to peak from next year." "
The Three special reports reconfirm the
​
urgent need for

immediate reductions

in
greenhouse gas emissions"
Heat is being added to the biosphere at

VIDEO UN Dec 2019 COP 25 IPCC Chair
2020 global emissions decline ​imperative
25 June 202
0 UN Climate Secretariat:
To avoid runaway climate change we must act now"
3 Aug 2020 Physicists:

90% Chance of Human Society Collapsing Within Decades
There is universal agreement on immediate (2020) raid global emissions decline, to avoid total planetary catastrophe
​rapid global emissions decline. This is the bottom line for our survival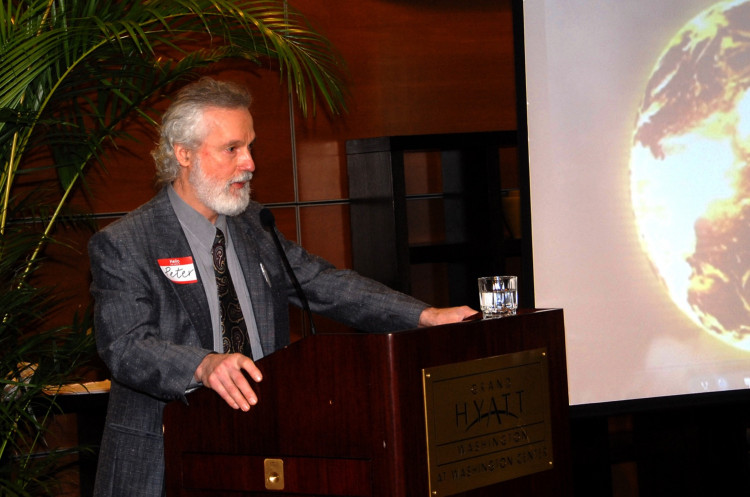 Welcome to the Climate Emergency Institute. I'm Peter Carter, founder and director of CEI. That we're in a dire climate emergency is now widely acknowledged. The purpose of this site is threefold:
​to show the science and the evidence of the climate emergency
​to portray the human dimensions of the climate emergency
to outline needed emergency measures and responses​
This site is unique in its comprehensiveness. It is an online climate/oceans emergency reference library. On each topic page in the Menu, you will find all the significant research, by date and linked, over the past decade.
Dr. Peter Carter, speaking in 2009 at an international climate change conference
​in Washington, DC
​This is proof of the now dire planetary emergency and that the world economy has the world on a fast track for biosphere collapse.
1 Sept 2020 Biosphere collapse trend Comprehensive data